SARASOTA, USA: May 8, 2016 – Natalya Coyle and Arthur Lanigan-O'Keeffe went one better than last year as they won gold for Ireland in the Mixed Relay that brought the curtain down on the 2016 UIPM World Cup season.
The Irish duo embraced and gave No.1 finger salutes to the crowd and photographers as they celebrated a fulfilling World Cup Final victory in the Florida sunshine.
It was an especially satisfying triumph for the Irish because they were beaten to gold in the 2015 World Cup Final by Belarus, whose team of Katsiaryna Arol and Mikalai Hayanouski were made to settle for silver this time by the duo in green vests.
Behind them, individual world champion Pavlo Tymoshchenko of Ukraine won a sprint finish to make sure he and partner Valeria Permyinka had a presence on the podium and a bronze medal. The Combined Event was a gripping battle between four nations and it was hard on Mexico that Tamara Vega and Jorge Inzunza had to settle for 4th in a very high-class Mixed Relay.
Crucial to the victory of Ireland was the freshness of Lanigan-O'Keeffe, the 2015 European individual champion, who did not compete in the men's final here. But his alliance with Coyle is now strongly established and are among the favourites for gold every time they compete.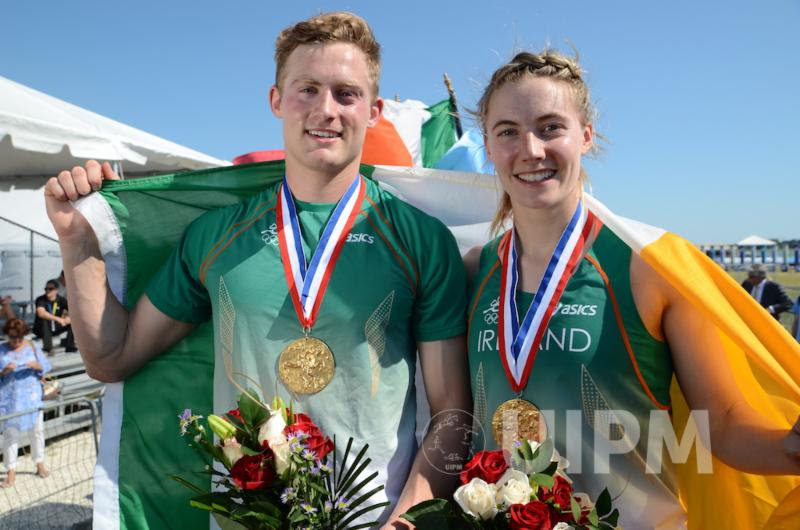 "We feel pretty good," said Coyle. "Last year we had three silvers in World Cups so we were pretty damn hungry coming into this one and we're delighted.
"I love the Mixed Relay, I think it's fantastic to watch because it's male and female and it's such a different tempo. It's a great asset."
Lanigan-O'Keeffe added: "I train closely with Natalya all year round so it's great to compete together and we are a great team. Wherever one of us has a shortfall, the other seems to find an answer. So it's a great event for us."
In Swimming, the USA (Samantha Achterberg/Logan Storie) and Ireland (Coyle/Lanigan-O'Keeffe) were the only two nations to dip under 2 minutes as Storie, the world record holder, gave the home crowd the start they wanted.
Arol (BLR) had come into this event hoping for another gold medal after her success of 2015 alongside Ilya Palazkov, when they won on home soil in Minsk. And she was competitive in tandem with Hayanouski on the Fencing piste.
Belarus finished the Ranking Round in 2nd place with 25 wins, one fewer than Ukraine and one more than Ireland. But they added maximum extra points by being the last team standing in the Bonus Round.
In the Riding arena, USA and Ireland both saw their medal bids falter as the leading men from the swimming pool struggled on horseback. For Ireland, 20 penalty points were at least retrievable as they started the Combined Event only five seconds off the pace. But for the USA, dropping 41 points left them with too much to do in the Run/Shoot.
Elsewhere, solid performances from Belarus, Ukraine and Mexico meant that they were all destined to be in medal contention alongside the Irish. And the first half of the Combined Event was a gripping four-way battle, ultimately decided by accuracy at the Shooting range.
Coyle (IRL) seized the initiative at the first series, then regained it after being overtaken on the first 800m lap by Vega (MEX) and Arol (BLR). On the 2nd lap the Irish woman moved clear and made sure her partner would have a time advantage to work with, and Lanigan-O'Keeffe showed no sign of nerves as he kept Coyle's lead intact.
The European champion knew that any sign of weakness would motivate the men behind him, including the reigning individual world champion Tymoshchenko (UKR), but he gave them nothing to work with and all four Shooting series saw quick and efficient Irish performances which ultimately proved decisive.
UIPM President Dr Klaus Schormann said: "The Irish dominated today's Mixed Relay, as we have seen in the past, and it was nice to see Belarus and also the Ukraine team doing well with a great world champion back competing.
"For the spectators, today showed that the Mixed Relay is really a theme event that we must promote, with more and more nations competing. At the World Championships in Moscow there will be 24 nations and we will present a strong argument to the IOC that the Mixed Relay is the team event we need for the future."
The 2016 UIPM World Championships take place in Moscow (RUS) from May 23-29. Live streaming of the Finals will be available at 
uipmtv.org
 and stay tuned to 
pentathlon.org
 for news and a full live results service.
2016 UIPM World Cup Final, Sarasota, USA
Mixed-Relay Competition Standings:
| | | | |
| --- | --- | --- | --- |
| 1 | LANIGAN-O KEEFFE Arthur, COYLE Natalya |  IRL | 1495 |
| 2 | AROL Katsiaryna, HAYANOUSKI Mikalai |  BLR | 1480 |
| 3 | TYMOSHCHENKO Pavlo, PERMYKINA Valeriya |  UKR | 1478 |
| 4 | INZUNZA Jorge, VEGA Tamara |  MEX | 1477 |
| 5 | STASIAK Sebastian, MALISZEWSKA Anna |  POL | 1416 |
| 6 | STORIE Logan, ACHTERBERG Samantha |  USA | 1405 |
| 7 | SILVA Leandro, ZAPATA Ayelen |  ARG | 1386 |
| 8 | ILYASHENKO Pavel, POTAPENKO Elena |  KAZ | 549 |